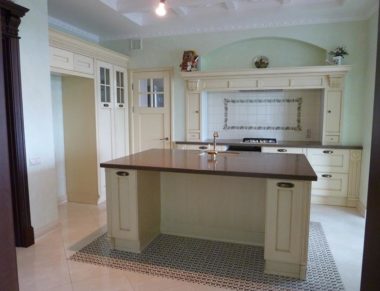 How to choose the right one out of thousands of companies producing kitchen furniture? How not to make a mistake with the choice, and most importantly not to regret later? After all, the kitchen is the heart of the house, where the whole family, large or small, gathers at the same table, for breakfast, lunch or a gala dinner. With many years of experience, Verdi manufactures kitchen furniture of varying complexity, uses high-quality materials, and produces furniture with different styles and functionality. Kitchen facades are made of solid wood, painted MDF, painted glass.
We use only high quality, durable and reliable materials for the production of kitchen countertops. You will find stone countertops, engineered stone countertops and quartz stone countertops among our offerings. A huge selection of countertops of various colors, textures with and without decor from large European companies is available.
Our kitchens – it's the maximum functionality and rational use of space. Choosing the best, pay attention to the details, as we do when choosing fittings from the best manufacturers such as Blum, HaFelle and Inoxa.
Photos of kitchen sets of our production