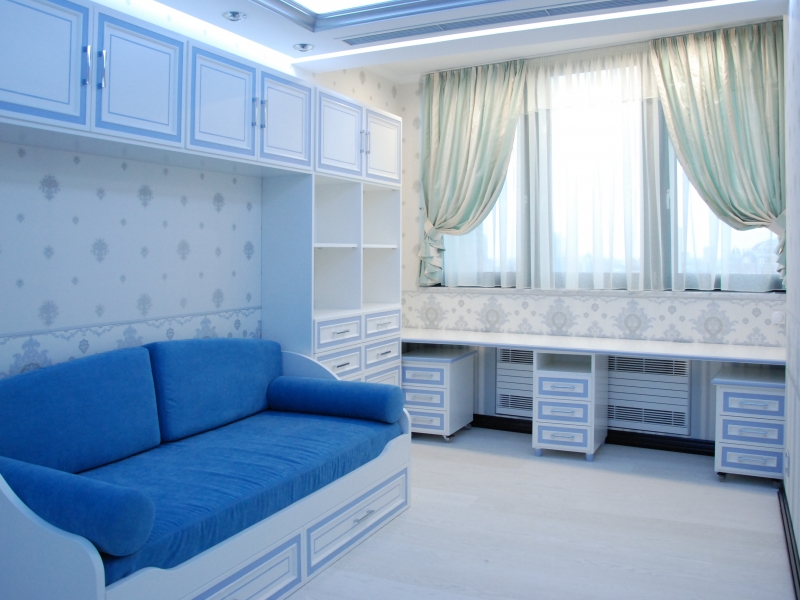 Quality children's furniture
Furnishing in any children's room, above all, should be done taking into account the age of the child, his character and hobbies. If you plan to equip a room for your baby, it is important to pay attention to the safety and quality of materials. In this case a set of upholstered furniture is best. For students, as completely independent individuals, it is necessary to clearly divide the areas for games and learning. Therefore, the most optimal choice will be the use of multifunctional furniture, which will provide the most profitable use of the usable area of ​​the room.
It is quite difficult for manufacturers of serial children's furniture to take into account all the requirements for quality and design that furniture must meet for specific conditions. Therefore, the best option is to make children's furniture to order.
Children's furniture of modular type can easily fit into any type of interior, as they can be made in different styles. Their main advantage is that you can get a variety of furniture by assembling the individual components:
lockers;
bedside tables;
armchairs;
tables;
chests of drawers.
In addition, modular furniture allows you to easily solve the problem of use of furniture depending on the growth of the child. When ordering modular furniture, you can be sure that you will get a truly functional and original design, and the manufacturer is sure to take into account all the requirements of parents and young users.
Custom furniture for children should have a number of significant differences from conventional furniture. Sets consisting of upholstered and warm furniture in light monochromatic tones are considered stylish. At the same time, the components of the set should not have any sharp corners or external ledges to prevent injury to the baby.
It is also important to pay attention to the materials used in the manufacture of furniture for children. Of course, furniture made of solid wood will be considered absolutely safe, but their purchase will not be cheap. Therefore, it is logical that MDF furniture is popular. This material is obtained by pressing sawdust followed by veneer, so its products are environmentally friendly and durable. Furniture made of plastic and particleboard are low price and are made in a variety of colors and shapes. When ordering children's furniture from these materials, you should review the accompanying documents to make sure that they do not contain harmful substances that can harm the health of the child.